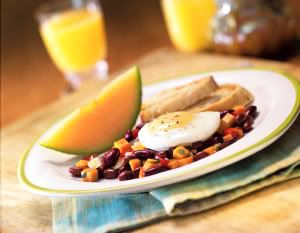 Across the street from the popular market bearing the same name, Agata & Valentina Ristorante's bright yellow awnings stood out too proudly for me to avoid dining here at least once. Passing it nearly every day on my way home, I often peeked inside or gazed at the menu. Today, my family and I ate brunch at this lively, Sicilian joint – but I can't say that I'll be back.
The décor inside of the narrow restaurant is modern and stunning, with cylindrical, hanging lamps and a black, prominent staircase (leading to I don't know where). All of the tables besides two large booths in the middle of the floor are simple, un-tableclothed and bistro-like, which didn't seem to compliment the posh atmosphere.
I had read reviews warning me of the poor service, but our table was waiting for us when we arrived at the reservation time. We waited but two minutes before being seated and were brought water and menus promptly, my number one indication of service.
For the table, I ordered Cestino Assortito di Dolcini ($6), three pieces, some sorts of croissants and a chocolate chip muffin and jam. They were ok, but we were later brought bread, which would have satisfied me as much as the basket. For myself, I ordered the Bagel and Smoked Salmon Platter ($14), which consists of a "bagel and smoked salmon with cream cheese, onions, tomatoes, and baby greens" (from the brunch menu; all menus are available online) and a glass of orange juice ($4.50). The orange juice was bitter, so I added a packet of sugar, which sweetened it right up. The lox platter was disappointing. There were four rolled pieces of salmon, a generous amount, two tiny pieces of tomato and homemade cream cheese, which was very tasty and not overbearing. The bagel was unremarkable and the greens were covered with lemon juice, which I couldn't have predicted, but I hate lemon, so that ruined it. I was hardly interested in eating what I had ordered and finished barely half, instead munching on the very potato French fries that came with the Sicilian Poplette Burger ($12) my mother ordered, which I didn't try. My stepfather tried the Ricotta and Orange Pancakes ($11). I sampled and they were light, thin and just two, but with a variety of fruit and I could tell that had it been my entrée, I would have been full enough.
Overall, the food was boring, I could have made it at home or eaten it at any other restaurant and it probably would have tasted better. I admit that I am a harsh critic, but I do require to be excited by the food and this was disappointing. Perhaps their dinner menu is more flavorful, but I won't risk it for double the prices later in the day. I won't be going back, but it was still important to try.
Reservations are accepted and a good way to go, long waits otherwise.
Agata & Valentina Ristorante
1513 1st Ave (at 79th St)
212.452.0691
http://www.agatavalentina.com