I've been absent from writing while I contemplate where I want to go with my craft. I want to open a shop at
Etsy
, but I don't know whether I want to go in a crafty direction -- and if I do, what crafts in specific? -- or photography. So I've been spending lots of my time on the Etsy forums and taking photos. Next week I start classes again, but I hope the business will make me more active and not stressed.
I found a magnetic board at a Marshall's in New Jersey about a month ago for $14.99. It had a worn finish of white, but with wood color showing through. The image over the magnetic board was several vintage photos of people at a lake or pool (I forget now!), but it looked so mass produced and not my style. I'm kicking myself now for not taking a 'before' shot!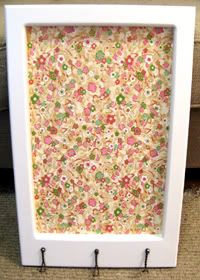 With a bit of sanding, fresh paint, and a new paper covering from Kate's Paperie, this is just the accessory I needed to get my new workspace going. That's all for now, I just wanted to share this!