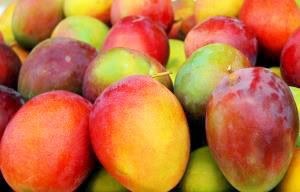 Speaking of warm weather, here's my recipe for a delicious mango smoothie. This recipe would also be great frozen as popcicles. You can use over-ripe mangos, like the ones I got today from the street stand for $1 each.
2 mangos
1 1/4 cups plain yogurt
3/4 cup orange juice
3/4 cup milk
3 tablespoons sugar
1 tablespoon honey
Peel and dice mangos, freeze in a baggie. When frozen, re-dice mango if it has made one giant glob. Add mango, yogurt, orange juice, milk, sugar and honey to a blender. If mixture is too thick, add equal parts milk and orange juice until desired consistancy. Make sure that the sugar has a lot of time to blend in, or else it will be crunchy. Serve immediately!
Yields approximately 6 cups.