As I said in the previous post, we've only now begun to decorate the apartment. But I'm trying to be crafty about it. I want to create a relaxing, homey feeling, and do that by spending as little money as possible, instead of buying expensive, pre-made products that make the apartment look cold.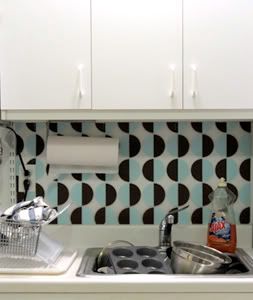 One idea I had was to create a backsplash behind the sink of Jonathan Adler's
placemats
. I cut four placemats to size and adhered them with double-sided poster tape, but the pieces quickly fell off and the backsplash is no longer there. I was thinking of using rubber cement, but I don't know if it dries white or clear and if it would work at all. Also I don't know if it goes with the rest of the room, which has a black, white and green thing going on. The placemats do also come in
green and navy
, which I never even considered using before (they're a bit bold!), since I already had one of the brown and blue ones. I'm still not sure what to do.
Other projects I have yet to tackle: Wallpapering the "pantry" in the livingroom/kitchen,
hacking
my
Vika Amon
table and perhaps even my
Jeff
chairs, hacking my two
Lack
side tables (one is already in the works with Mod Podged legs of magazine text), recovering loads of panels of fabric that hang on the wall, oh boy, so much to do!