Three new, cool things that were on sale, standing out in my apartment.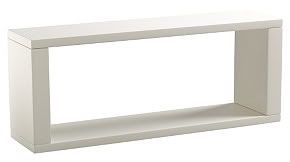 The
Archetype wall box
($19.95) at Crate & Barrel, is above the kitchen table for holding all the crap that usually gets thrown on the kitchen table (candy, papers, the toaster). I plan to cut out a piece of cardboard to fit exactly inside and upholster it with a cool looking fabric! Eventually.
I bought an
oval flocked wastebasket
in nova blue ($4.99) in hopes of converting it into a newspaper holder. My boyfriend has a subscription to
The Wallstreet Journal
and reads
The Village Voice
and
The Onion
, so there are always tons of newspapers hanging around on the table or on the chairs, and for the puppy to eat. It does look like a trash can, especially with newspaper popping out of it, but I plan to buy some cool ribbon to string through the pipe cleaner-like wires and then perhaps hang it on the wall.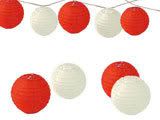 Tonight we hung a white string of
lanterns
($9.50) above the opening of the kitchen (picture later). This was my idea, but as they were going up, I tried to abort. The boyfriend wouldn't let me and he continued to hang them. They add some festivity to the room, albeit perhaps a bit of tackiness, slash college dorm-ness, and a splash of messiness.
It's all about the accessories!